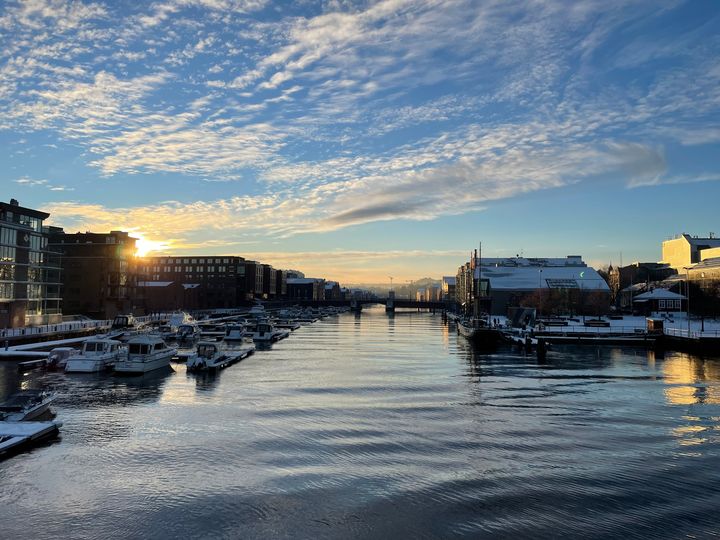 I went for a run to Trondheim center this weekend. I live about 2 miles from the center, so out and back is a good amount of distance for me right now. On the weekends I try to go somewhere nice to enjoy the little sun we have. Usually, I run along the fjord, but we got a fair bit of snow and I doubt the path is clear or packed down enough to run on.
So I stuck to the streets and jogged into Sentrum, stopping to take a photo of Nidelva, the river Nid, lined by the warehouses in Bakklandet on the left side and Kjøpmannsgate on the right. The local time was 11:51 AM. The sun was at nearly the highest point it would reach that day.
The darkness was jarring at first, but now I've gotten used to it being dark when I sip my coffee at my desk at the start of the work day, and dark again when I leave for the bus stop. Multivitamins have helped. Mom tried to get me to take one for years, and I never did, but now I've found that if I put the multivitamins in front of the coffee beans I will remember to take one almost every morning.
After crossing Blomsterbrua (the flower bridge) I ran down Olav Tryggvasons gate, and tried to get a picture down the street, showing Bymarka in the background. It didn't come out as impressive in the photo as it is in real life. This street often serves as my entryway into downtown Trondheim, as I usually take the bus and get off at the stop further down the street, by the second set of traffic lights. In the center there are many coffee shops, bars, and restaurants, as well as the Nova cinema you see on the left. Little yellow Christmas lights hang above the streets and illuminate them at night, which starts at around 3 PM now.
Only two more weeks until the winter solstice. Then the nights will begin to get shorter again.